South Florida is home to many fantastic sights and scenes. However, it is most known for the abundance of beautiful beaches on offer. This majestic stretch of coastline is home to some of the best beaches in the world, offering exceptional views across the awesome Atlantic ocean. If you're planning a vacation at any point in 2023, then you've come to the perfect place!
Below, we'll showcase the best beaches in South Florida for both tourists and locals. There are many options to look at, but we've narrowed the search down to 11 beautiful beaches for you to check out:

Fort Lauderdale Beach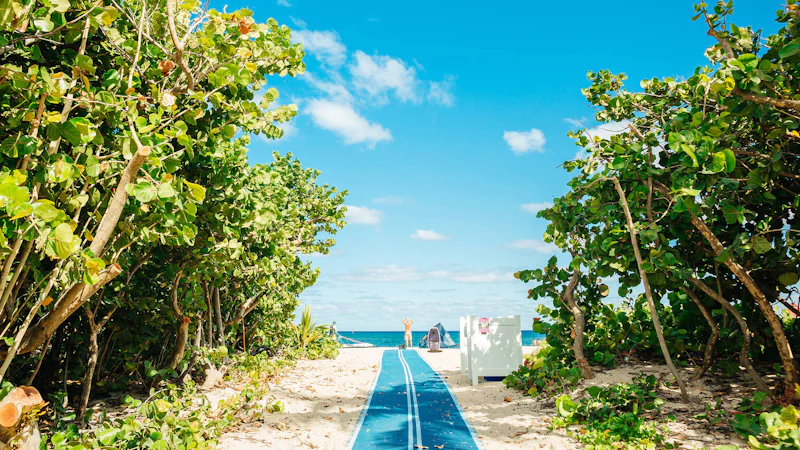 Anyone that knows anything about this area will not be surprised to find Fort Lauderdale beach as one of the best beaches in South Florida! It has regularly been dubbed by many as the top "Spring Break" beach for numerous years. This long sandy beach looks out onto the pristine waters of the Atlantic Ocean, offering stunning views and a clear blue sea. Visually, you can see why it's such a popular place to visit.
Don't be discouraged by the fact that Fort Lauderdale beach was once popular with college students on Spring Break. Nowadays, it's a much more upmarket place to go. The beautiful sand is kept well clear of rowdy party animals as it is now family-friendly. With 4 miles of coastline to enjoy, it's safe to say there's something for everyone on this beach. There aren't that many beaches in South Florida that can compete with it in terms of things to do. This is thanks to the long strip of high-end boutique shops for you to pop into when you're taking a break from the sun, along with a host of five-star restaurants and eateries.
Perfect palm trees line the promenade of Fort Lauderdale beach, creating a dreamy backdrop for your Instagram photos. As if that wasn't enough, you have a plethora of gorgeous Fort Lauderdale villas to choose from if you need somewhere to stay. When visiting such a high-end beach, you may as well stay in a luxury setting as well.

Miami Beach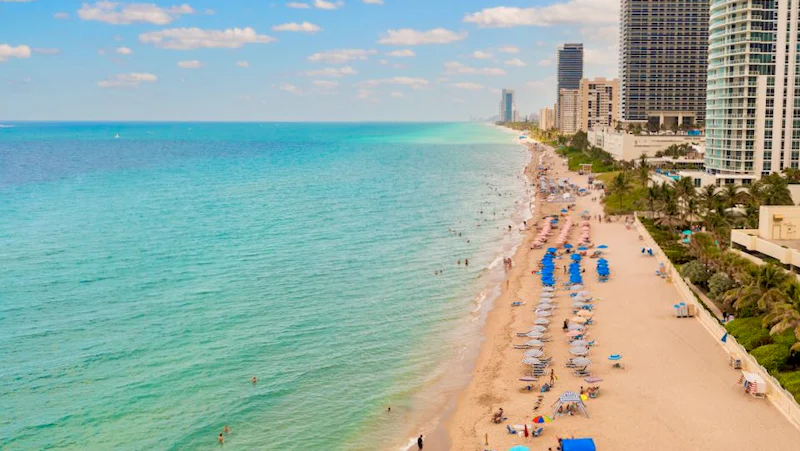 Next on our list of South Florida beaches is Miami beach! This is technically considered a coastal resort city as there is so much on offer here. Again, you have the typically sandy beaches in South Florida, with beautiful views of the Atlantic Ocean. Miami beach is also located on some gorgeous little islands that sit within Biscayne Bay. This just adds to the natural beauty of the place.
It is a phenomenally well-maintained beach with a thriving promenade and loads of amazing things to do. You can barely walk for five minutes without encountering some of the top restaurants in Miami here. Moreover, Miami beach is home to loads of boutique shops, as well as being a fantastic place to try scuba diving thanks to it being a barrier island.
Overall, there is a lot to enjoy here and the views are mesmerizing. Plus, with a host of luxury Miami villas to choose from, you can enjoy your stay with all the home comforts at your disposal.

Jupiter/Juno Beach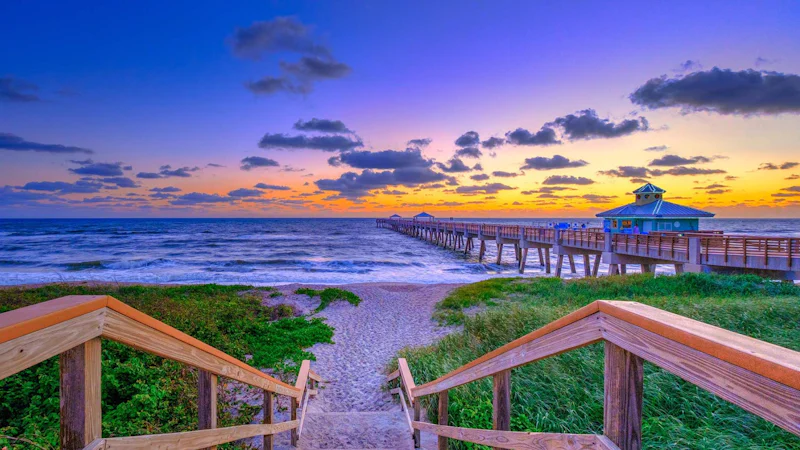 In terms of the best beaches in South Florida, Jupiter island is a massive contender. It's a long sugar sand beach that's located just north of the town of Jupiter and brings you all the way down to Juno beach. It's a hotspot for a beach vacation because this beautiful long island is surrounded by clear water and some stunning wildlife. If you're a fan of nature trails and amazing scenery, Jupiter island is the place for you.
Or, as mentioned, travel slightly south to find the impressive Juno beach. Home to the iconic Juno beach pier, this pristine beach has everything you could possibly ask for. The sand is golden and soft, the sea is perfect, and it feels like a melting pot of traditional Southern Florida culture. The people are friendly, lots of different cuisines are sampled throughout the promenade, and you can truly relax with your beach gear, sipping on one of the local cocktails.
These two beaches come as a pair because you can't enjoy one without the other. Jupiter Island is a gorgeous part of Southern Florida that has to be experienced, while Juno beach is a stunning public beach that you can relax on for hours. Explore Jupiter, then wind down on Juno!

South Beach, Miami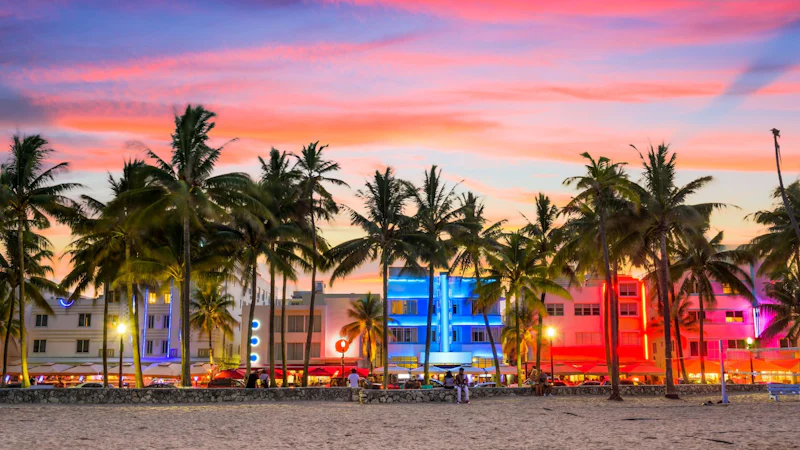 Those of you that have never ever been to South Florida will probably not know most of the beaches on this list. However, there are a few names that jump out because of their world-renowned fame. South Beach is one of those names, attracting attention from all four corners of the globe.
Sure, we're talking about South Florida beaches here, but South Beach is genuinely one of the best beaches on the planet - that's how brilliant it is! Everyone recommends it to give you a taste of the eclectic Miami lifestyle. It's located in the southern part of Miami beach, just a stone's throw away from central Miami itself. In fact, this little barrier island is perfectly located for anyone that wants to experience a true taste of this iconic city.
South Beach is home to a plethora of things to see and do. It features a long stretch of sand that's perfect for a relaxing beach vacation, but the nearby shops will always tempt you. Feeling peckish? Don't worry, no shortage of brilliant Miami restaurants exist near South Beach - and there are even some local food tours to try!

Florida Keys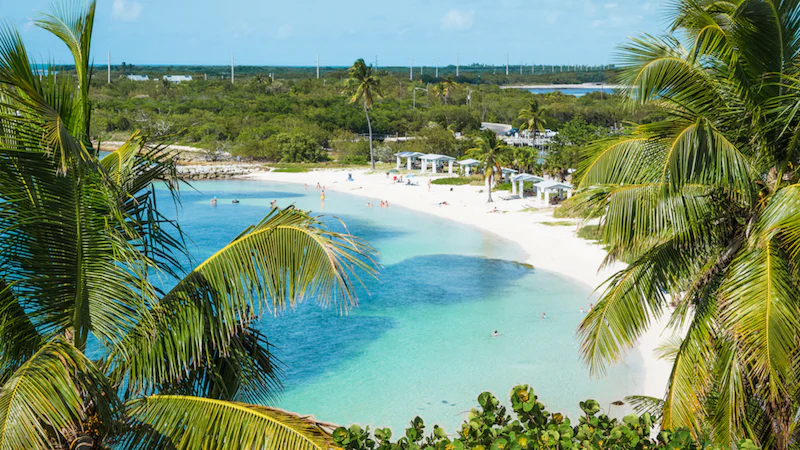 This is another location you may have heard of, even if you've never been to South Florida. Now, unlike the other beaches on this list, the Florida Keys refers to a collection of different sandy beaches. It's actually a variety of tropical islands that stretches out for 120 miles from South Florida. Florida Key West is perhaps the most well-known city on these islands, but there are so many things to try here.
Naturally, as a collection of tropical islands, the main attractions here are the wildlife. You will see loads of vibrant tropical fish swimming in the water, along with countless wildlife trails on the islands themselves.
If you fancy a day trip, this could be one of the best places for you to visit.

Delray Beach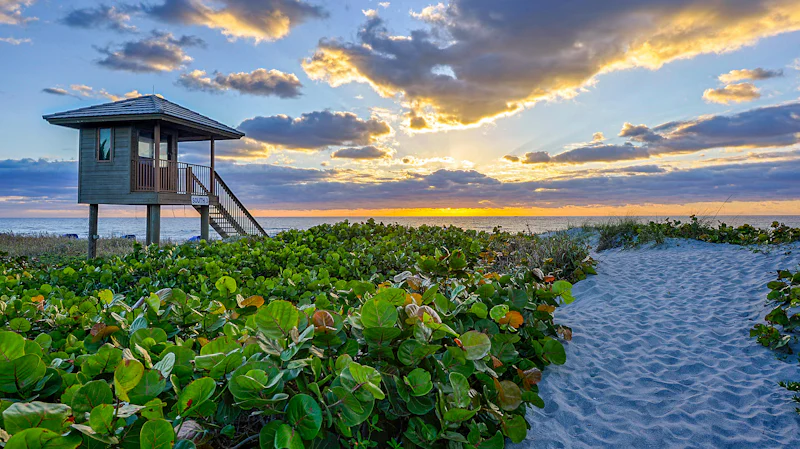 We are huge fans of Delray Beach in Miami! Seriously, this is one of the most exciting places you can travel to. Like all of the wonderful South Florida beaches, Delray Beach gives you everything you could dream of - and more. It has palm trees, golden sand, bright blue water, and a friendly atmosphere.
However, what sets Delray Beach apart from other options on our list is the culture. It's located in the greater metropolitan area of Miami, so there's a constant buzz around the place. It isn't as busy as Miami itself, but it's certainly got a lot going for it. For instance, it is home to a lot of arts and culture hotspots. There are wonderful art galleries, quaint cafes, and a variety of local businesses.
Come to Delray Beach for the sun and wonderful views, but stay to take in the rich culture of this vibrant area of South Florida.

Clearwater Beach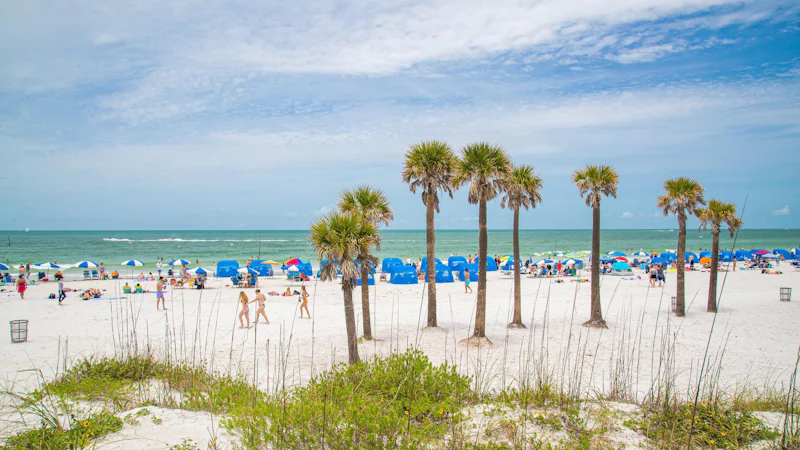 Until now, the majority of beaches on this list have seen us enjoy Florida's east coast. However, Clearwater Beach lets us see what the Gulf coast has to offer. It sits right between the Gulf of Mexico and Tampa Bay, giving you a very unique beach vacation.
Usually, when you visit a public beach, the worst thing is getting the water. It tends to be very cold, even in hot locations. This is why you have to wear protective gear when playing water sports. But, at Clearwater Beach, the Gulf coast provides warm water at all times. It's extremely relaxing, so you can just stand in the sea without adjusting to the freezing water!
Furthermore, the water is - as expected - extremely clear, offering wonderful views of little sea turtles and other marine life. If you fancy seeing more aquatic beauties, there is a Marine Aquarium close to the beach as well. This is definitely one of the most beautiful beaches in South Florida, but it's also one of the best for families.

Caladesi Island State Park, Dunedin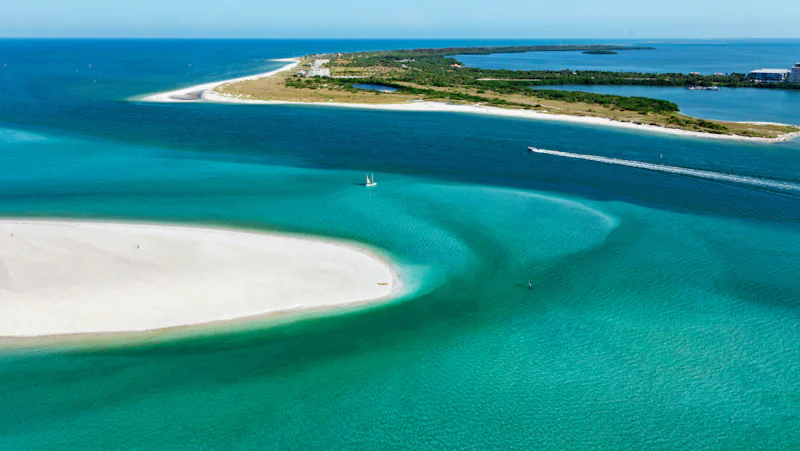 So far, we have been on a journey to some of the most exciting and intriguing beaches in South Florida. You've seen options like Fort Lauderdale and South Beach, not to mention places that haven't even made the list - like West Palm Beach and Fort Myers Beach.
Places like these all offer similar things; excitement, lots of people, and a real sense of what it's like to live in Florida. So, we thought we'd offer something different with Caladesi Island State Park.
Unlike beaches like Palm Beach, Fort Myers Beach, or Fort Lauderdale, Caladesi Island State Park is calm and serene. It's located on a small island that you can only access via boat, delivering a truly unique beach experience. It's a piece of natural paradise, offering many nature trails, hiking trails, and snorkeling opportunities. By all means, it's still a barefoot beach, but it gives you something you won't find anywhere else.
Put simply, this is a must-visit, especially if you want a quieter and more peaceful experience.

Siesta Key
We're staying on the Gulf Coast to see what many consider the number one beach in the USA. Siesta beach is hugely popular thanks to its 8 miles of white sand. It's a barefoot beach where you can walk along and see so many wonderful things.
Speaking of which, the sand is what makes Siesta beach so special. It is uniquely composed of quartz crystals, making it cool at all times. Genuinely, when the sun is baking down on your body, the sand is cool underfoot. You won't find many other beaches in Florida that boast this special feature!
Alongside the cool sand, Siesta beach lives up to its name as a wonderful place for a siesta. You can lay your towel down and relax for hours in a state of heavenly peace. Or, if you fancy something a bit more adventurous and exciting, there are ample opportunities for water sports here. Beach volleyball is always played as well, so there are options for all beach vacations.

Panama City Beach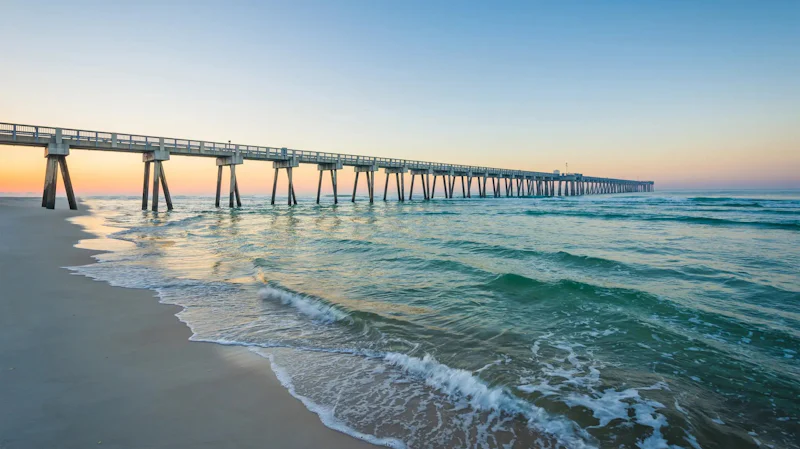 The penultimate place on our selection of fine Florida beaches is Panama City Beach. It's also the northernmost option here, so it's a little bit naughty sneaking it in. But, we simply had to do it as it is one of the most beautiful places in Florida.
If you love secluded beaches with soft white sand and amazing views, this is the place to be. It's home to two nature preserves, giving you some of the best hiking trails you will find. If you're keen to find a beach with a fishing pier, Panama City Beach is the place for you. There are plenty of piers for you to go fishing, and an abundance of tropical fish to catch!
The soft sand and fishing opportunities aren't all you'll be greeted with here. Panama City Beach happens to be home to dolphins, so you can arrange a swim with a local guide. It's certainly a romantic place to go, and we recommend this for adventurous types and couples.

Venice Beach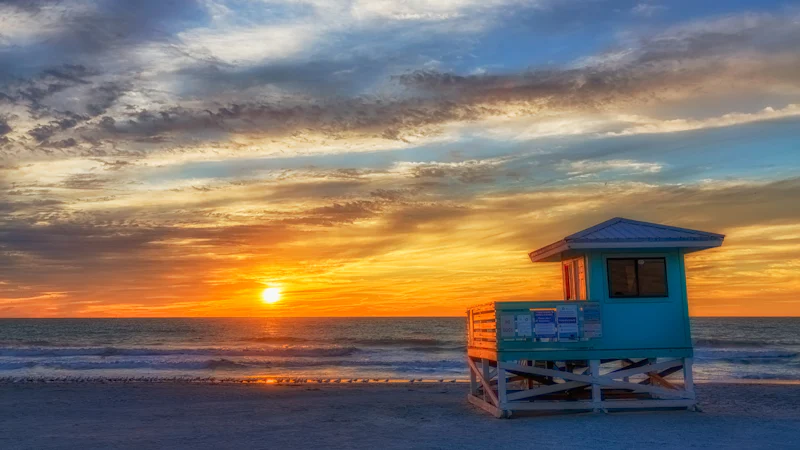 Ironically, most people have heard of Venice Beach, but not the one in South Florida! Yes, the one you're thinking of is in LA, but one of the best Southern Florida beaches goes by the same name.
Venice Beach is located on the western side of Southern Florida, delivering a wonderful experience. It's a truly beautiful beach that has soft sand and dozens of shops/restaurants nearby to enjoy. The standout feature of the beach has to be the Italian architecture dotted around the place, hence the name. It's a true homage to the original Venice in Italy, but with the gorgeous Floridian weather!
It's a popular barefoot beach for people of all ages to enjoy, and the Venetian Waterway Trail can be found a stone's throw away. This is a truly marvelous nature trail that offers some of the best views in Southern Florida.