Are you thinking about taking a trip to Los Angeles with the family? If so, then you might be interested in exploring the top water parks around Southern California. There are plenty to choose from whether you are looking for thrilling water rides, a long relaxing lazy river, or a true wet and wild adventure for the whole family.
When selecting a water park, remember to think about various factors including the age of family members. Some water parks are more suitable for younger family members while others will cater to older kids. You should also consider where you are going to stay. At Villa Pads, we have luxury villa rentals available close to some of the top water parks LA has to offer.
Here are some of the best LA water parks that you won't want to miss on your next trip.

Water Parks in Los Angeles, CA
Six Flags Hurricane Harbor LA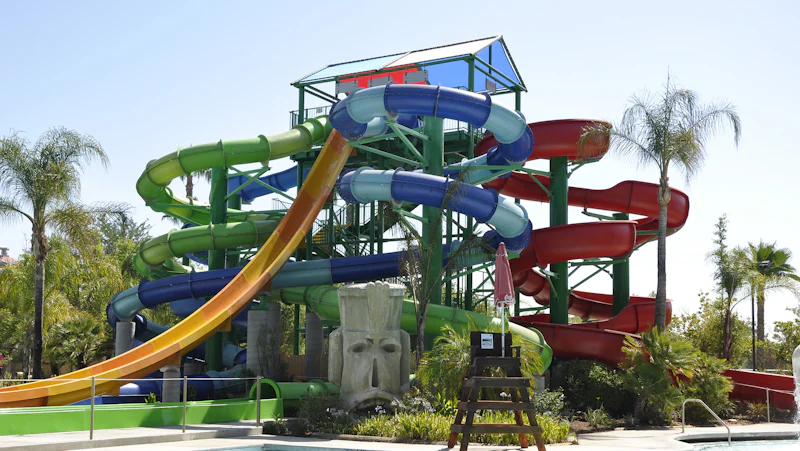 Located on Magic Mountain Parkway, Six Flags Hurricane Harbor is the perfect choice for kids of all ages. This popular water theme park has a wide selection of thrilling water slides as well as a selection of mini water slides that will be perfect for younger kids. It boasts a fun atmosphere and stunning theming with a wide selection of choices for family water play. This option is going to appeal to everyone from older teenagers to younger toddlers and everyone in between who is looking for water fun.
As well as a tremendous wave pool, the park also has Castaway Cove. This is a large play area perfect for little ones who are going to be too young for some of the larger thrill rides that this park has to offer. The enormous shallow water playground has a scenic waterway featuring waterfalls making this one of the best Los Angeles water parks that you can explore.
The list of thrill rides includes Black Snake Summit, Bonzai Pipelines, and Lightning Falls to name just a few. Bonzai pipelines is a cool water ride with two drop towers that allow you to race against friends or other members of your family.
There are so many water rides to choose from here that you will be completely spoilt for choice. However, the racing slides are always a hit with teenagers in the family. Hurricane Harbor is open all throughout the summer and closes around September.

Drytown Water Park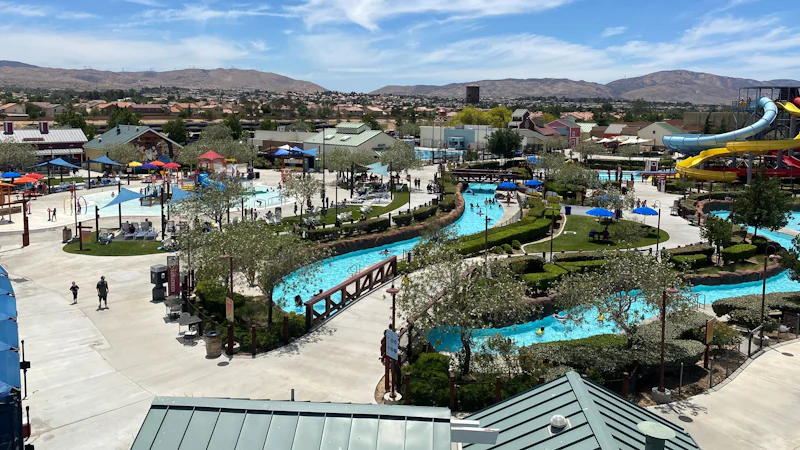 This is one of the best water parks in Southern California if you are staying close to Antelope Valley. The water park has plenty of different fun rides to explore including body slides like Dusty's Mineshaft Racer. Here, all the kids will be able to race against one another as they rocket down pulse-pounding speed slides to the finish line. On a hot summer day, you'll also love relaxing as you wind down the lazy river. Big Rock River is 925 feet long which means that you can spend most of the day drifting down it and soaking up all the sun.
You can also stop off here on visits between different water slides. The flowing river channel takes you all around the theme park ensuring that you won't miss out on any of the best water slides.
For younger family members, Drytown Water Park offers Little Miner's Camp. This zero depth play area provides plenty of wet fun for those who are not old enough for the raging waters located elsewhere. There's also a picnic area located close by so that you can easily keep an eye out as the little ones play.
Climbing age kids will also be able to enjoy a multi-level play area with kid sized slides that are sure to keep them entertained for hours.
There are six beautifully landscaped acres to discover so if you're looking for one of the water parks in Los Angeles suitable for all ages and plenty of family fun, this is a great choice.

Knott's Soak City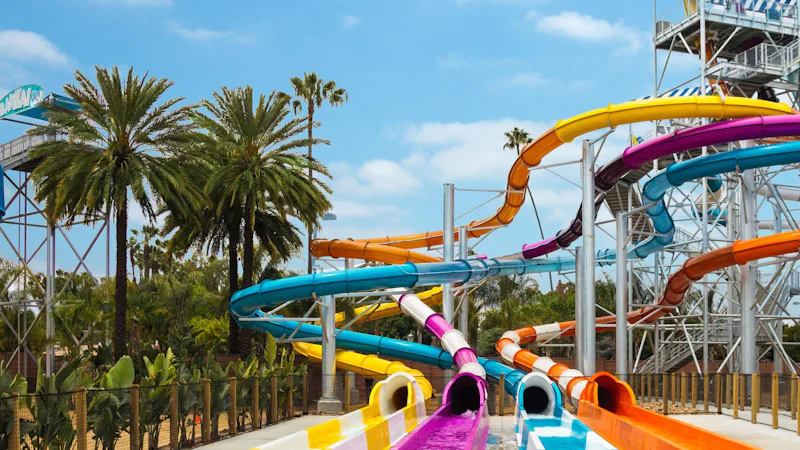 Are you staying by Buena Park? If so, then you can take a trip to Knott's Soak City. This is just across from Knott's Berry Farm and one of the best attractions in Buena Park that you can explore.
If you are searching for one of the water parks in Los Angeles that boasts the biggest wave pool, then this is certainly the best option for you. The Tidal Wave Bay wave pool has more than 750,000 gallons of water. Or, for those who want a more relaxing experience visiting one of LA's water parks, there's a lazy river that stretches for one-third of a mile. There are countless interactive water elements for the kids to explore as well including two spray pad areas and a three-story beach house.
As well as a wonderful lazy river and cylinder spray fountains, there's plenty more family fun on offer Here too. For instance, you can take a thrilling plunge on one of the many drop slides this water park has to offer.
Or, if you're looking for family oriented water slides, we recommend that you head to The Wedge. This is one of the water slides that allow you to ride with your entire family.
Once you have finished exploring one of the best water parks in Los Angeles you can take a trip over to Knott's Berry Farm, for more fun that will keep the entire family entertained.

Legoland Water Park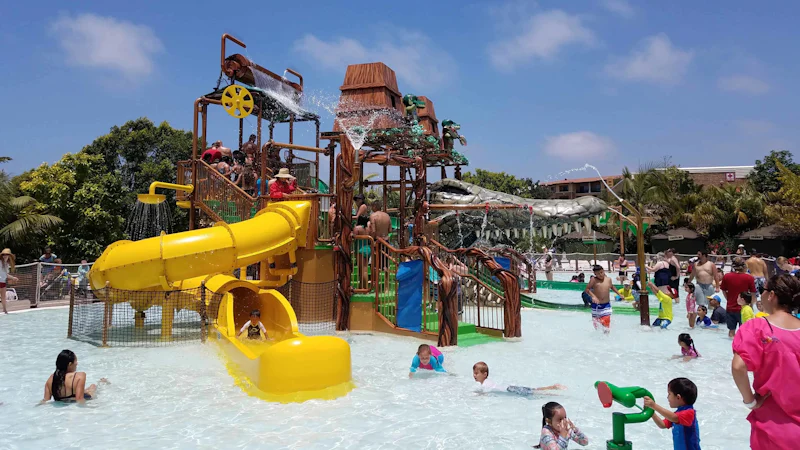 While there were many water parks in Los Angeles, there are none quite like Legoland Water Park. As the name suggests Legoland Water Park will be perfect for anyone who loves Lego! It has fantastic theming as well as a wide selection of water slides. This also has some of the best mini slides in Southern California which make it one of the greatest family friendly water parks in Los Angeles.
It's here that you can explore one of the best family raft rides combined with a lazy river. You'll need to put your skills to the test and work together as you built a brilliant raft that's ready to float downstream.
If you have little ones in your party, then you should also make sure that you explore Chima Water Park. This smaller park is packed full of family friendly rides and activities. You can even build a Lego boat based on your own design here in this wonderful family oriented small park.
In the main water park, there's even more wild fun at this wonderful location in Los Angeles. You can even explore a mini pirate themed water park and try to dodge getting soaked by a giant dumping bucket as well as fun spray canons.
There are extra perks for hotel guests staying at LegoLand too so this is worth considering when you are planning your trip. Legoland Water Park is also close to Sesame Place San Diego - a new theme park where the whole family can meet their favorite Sesame Street characters.
Great Wolf Lodge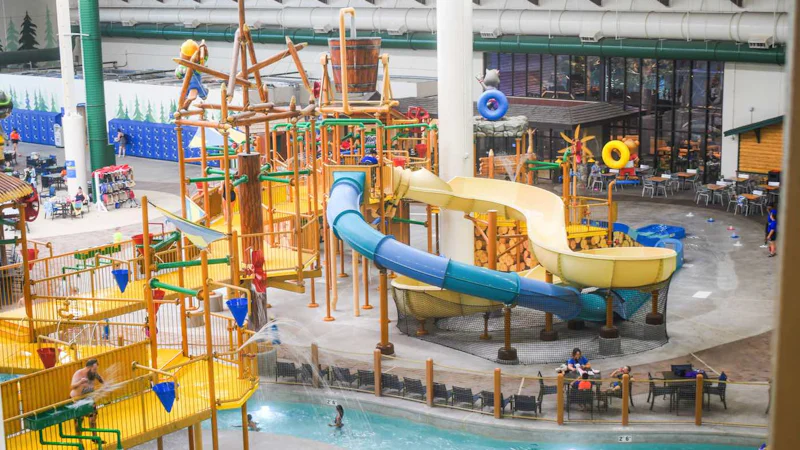 Great Wolf Lodge is another fantastic water park that you should explore if you are visiting Los Angeles.
Located at Garden Grove, Great Wolf Lodge is a water park in Los Angeles that has everything that you could want for a great day of summer fun. The best part is that you don't have to rely on the weather to have a great time here. It's the best indoor water park in LA and the largest indoor water park in North America.
The theming here is fantastic and makes you feel as though you have discovered a wonderful secret hidden in the American wilderness. There are various tub rides to explore with many that are large enough for the whole family to ride together. If that's not enough, there's also a large lazy river and even a full wave pool.
After visiting this park, you'll wonder whether you ever need to visit one of the outdoor water parks in Los Angeles again.
Once you have finished exploring all the water fun available here, there are various other activities that you can discover too. Unlike typical water parks in Los Angeles, you can decide to go bowling, try rock climbing or get a delicious bite to eat. Everything is just a stone's throw away when you visit one of LA's best indoor water parks.
Buccaneer Cove Water Park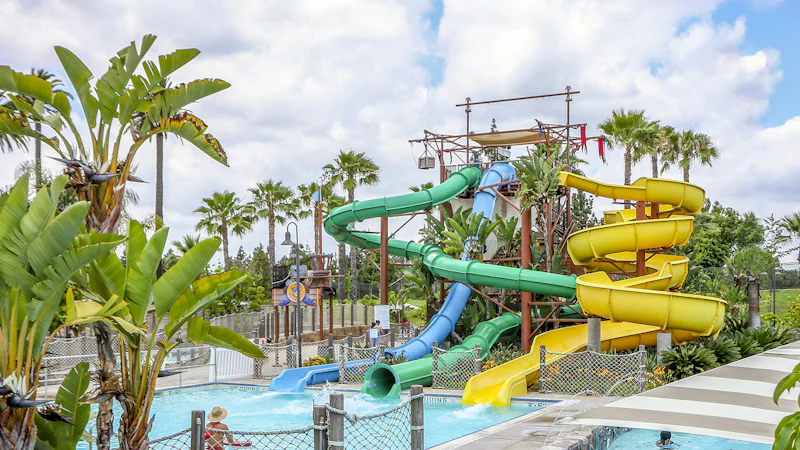 If you're looking for one of the best water parks in Castle Park, we recommend that you explore Buccaneer Cove.
This water park in Castle Park has more than four levels of water play that will be perfect for family members of all ages. There are fun spray cannons and 5 colorful water slides that your little ones can swoop through.
There's even the option of renting a Cabana. This option provides you with a luxury space that you can use the entire time that you are at this park.
There's no need to worry about forgetting anything that you need for a great day at Los Angeles water parks either. Duke's Boardwalk provides a place where you can buy everything from a soft towel to sun tan lotion or sunglasses.
As you might have guessed, this park is pirate themed. This means that the little ones in your party are sure to have a fantastic time discovering everything that this park has to offer. Since it's smaller than some of the other water parks on this list, it's also usually less crowded and quieter as well. As such, if you want a relaxing time with your family, this could be the ideal location in Los Angeles for you.
Cove Waterpark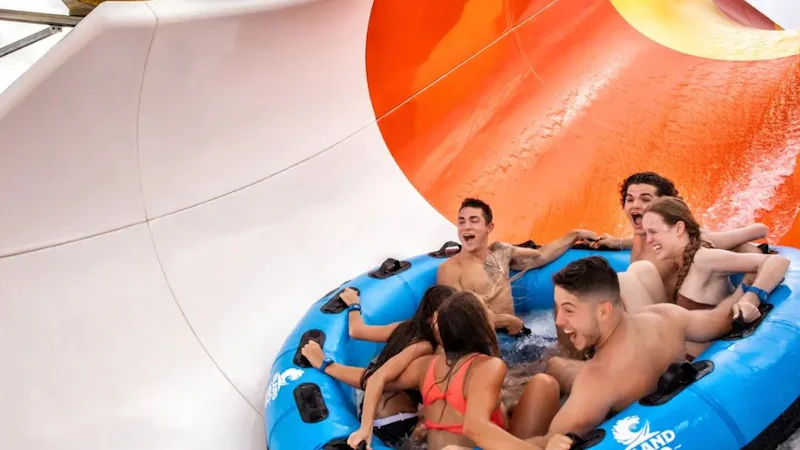 The Cove Water Park is one of the more typical water parks in LA but it still has plenty to offer that the whole family is sure to enjoy.
This includes unique activities such as Flowrider. While currently down for maintenance, the Flowrider typically provides visitors with the option to learn how to surf in a safe environment. This is suitable for most children and will give them their first taste of riding the waves.
Similar to other options on this list, The Cove Water Park does also provide the option for swimming lessons as well. As such, if your child needs a boost in their skills in the water, then this could be a great choice. There are also aqua fitness classes for those who want to stay as active as possible while on vacation.
Little ones will be able to explore a water house with multiple activities and slides to discover as well as countless ways to get wet.
While the kids enjoy the various rides available, adults can rent a cabana and relax in the sun all day long. Different price packages are available depending on the experience that you are interested in exploring here.
Other attractions include the Ne'er Ending River. This takes you all around the park and allows you to get off when you see an activity that you're interested in exploring.
Alternatively, for those with more experience in the water, there's also a competition pool where you can show offer all your skills. You can also spot top swimmers from all across LA competing here.
Casitas Water Adventure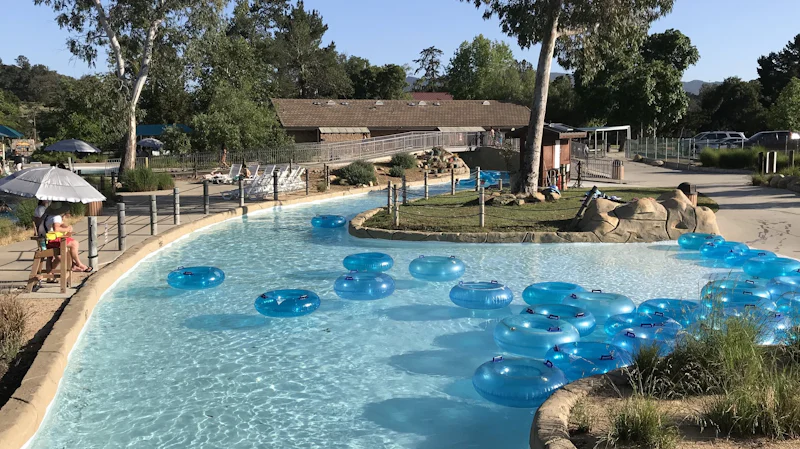 On-site at Lake Casitas Camping Park you can explore a smaller water park. Casitas Water Adventure is open throughout the summer season. It has a splash pad, a lazy river, and a medium-sized lagoon.
The big selling point of this water park in Los Angeles is certainly the location. This water part is situated in a paradise, far from the urban pleasures of the city. This makes it the perfect place to relax and unwind on your next vacation. As you drift around the lazy river, you'll see green and trees for as far as the eye can see. Be sure to water out for mellow waterfalls that are cascading down all around you as you float around this rustic paradise. Once you have spent enough time wandering down the stream, you can take a dip in the lagoon. You won't find many water slides available here, but you may not miss them. This is more about unwinding in a gorgeous location without a care in the world. Despite the low number of activities, it's still widely considered one of the greatest water parks in LA.
Raging Waters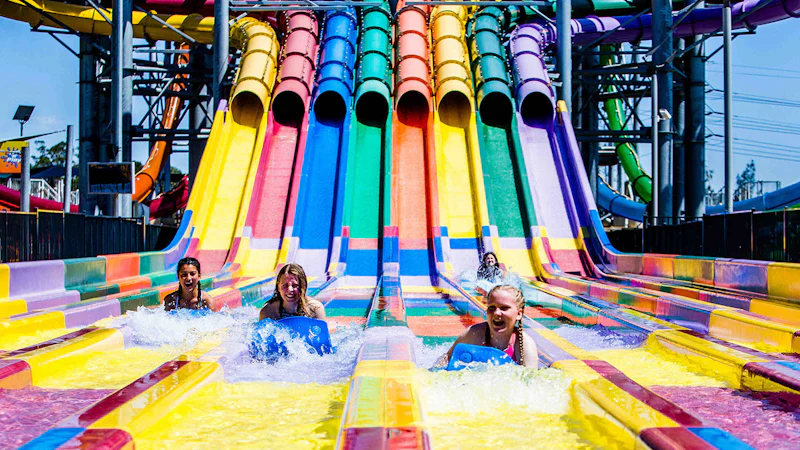 Or finally, you might want to visit the largest water park that Los Angeles has to offer. This is undoubtedly Raging Waters. As the name suggests, Raging Waters is one of the best water parks in Los Angeles if you are looking for incredible thrilling rides and wonderful adventures. However, it does still have the traditional lazy river that you'll use to relax between queues.
This 60-acre water park in Los Angeles has rides and attractions that are suitable for all ages including multiple spray pad areas and Aqua Rocket. This cool ride is the only hydromagnetic water coaster in Los Angeles or even California. It's a brilliant, innovative cross between a typical roller coaster and a water ride that you won't want to miss.
Other more typical attractions include Wave Cove. This is one of the largest wave pools that you can dive into in Los Angeles. But don't worry, with a zero depth beach entry, kids of all ages can enjoy the mellow waves and swells available here.
The sheer size and wide variety of activities ensure that this is always chosen as one of the top outdoor water parks that families can take a trip to in Los Angeles.
Find the best water parks in California – a lazy river or some wet and wild fun.
As you can see, there are countless water parks in Los Angeles to choose from. You just need to find the option that fits what you and your family are looking for. Whether that's a thrilling adventure, a relaxing place to unwind, or incredible theming sure to dazzle younger children, there are some fantastic choices to consider.
Rent an LA mansion and our villa specialists plus our concierge team can plan your vacation so you're always having fun!